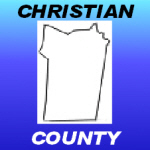 Authorities are looking for a Christian County inmate that has walked away from a work detail this (Monday) morning.
            Kentucky State Police reports Chad William Love was with a Christian County Jail detail near the Salvation Army in Hopkinsville when he took off.
            Love is a white male, five foot ten, 172 pounds with blue eyes, short brown hair and a medium build.  He was in jail for fraudulent use of a credit card over five hundred dollars and has a long list of pervious felony convictions.
            Anyone with information on Chad William Love is asked to call 9-1-1 or Kentucky State Police.